The Right Stuff Comes In Blacks Too
₵120.00
The right stuff is a designation that was used originally to describe the early astronauts who pioneered space travel for the United States of America. They exhibited an extraordinary ability to perform in the challenging circumstances one inds in outer space.
This term can be used to describe Blacks of Extraordinary achievements in Movies, Sports, Business, and many ields including Technology. This is how we describe the achievements of Dr. Thomas Mensah, who has succeeded against incredible odds. Ebony Magazine calls him a genius in the October 2006 publication.
Compare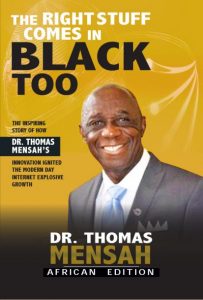 No more offers for this product!
General Inquiries
There are no inquiries yet.